IF YOU'RE friends with me on Facebook or Twitter, you'll know I'm not half proud of my last-minute Princess Castle Birthday Cake whipped up for Baby Holly's first birthday on Saturday.
It started badly when I ran out of eggs to cook the cakes on Friday. Thankfully, it was The Bloke in The Shed to the rescue that night and before bedtime I'd managed three cakes. The next morning, again with a little help from The Bloke in The Shed's rolling pin skills, we'd finally assembled and decorated the castle well before the afternoon party.
I must give credit to the Donna Hay Kids' Magazine for the inspiration for the castle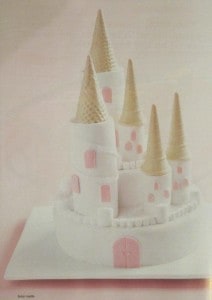 and my trusty Women's Weekly Kids' Perfect Party Book for the cake recipe (although, I've made just a few tweaks).
Here's how to make it:
NEED:
CAKE:
2 2/3 cups self raising flour
1 cup cocoa powder
250g butter, softened
1 teaspoon vanilla extract
2 ½ cups caster sugar
4 eggs
1 1/3 cup water
CASTLE: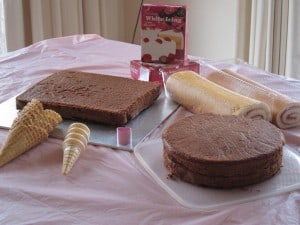 1 cake board
3 x cakes (as per above)
4 large ice cream cones
4 small ice cream cones
100g white chocolate, melted
5 x 500 g packets store-bought ready-to-roll icing
2 x 300g jam rolls
Large white and pink marshmallows, to decorate
METHOD:
CAKE:
Preheat oven to 180C/160C fan forced. Grease and line 2 x 21cm round by 3cm deep tin + 26 x 21 cm rectangle tin.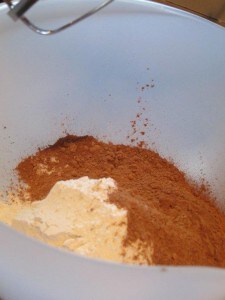 Place flour and cocoa into medium bowl, add remaining ingredients. Beat on low with electric mixer until combined, then increase to medium and beat for 3 minutes.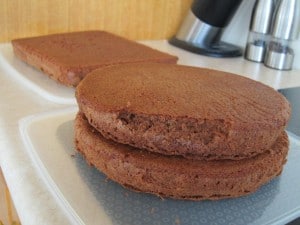 Spread evenly into three pans and bake for 35-40 minutes or until cooked.
CASTLE:
Place rectangle cake onto a cake board.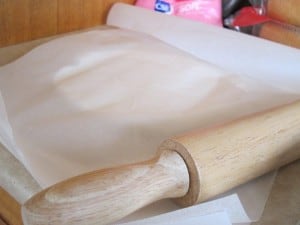 Knead 2 packets of icing on a clean surface until soft, then roll out between 2 sheets of non-stick baking paper to 3mm thick.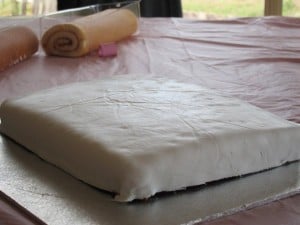 Use the baking paper to lift the icing over the rectangle cake. Trim excess and smooth out any corners, creases etc.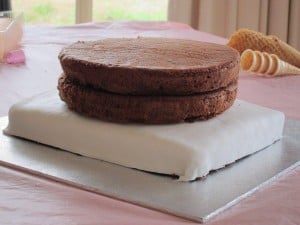 Place two circle cakes onto top of the iced rectangle cake. Knead another packet of icing and roll. Cover the two round cakes with the icing.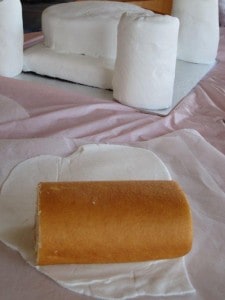 Cut the 2 jam rolls into halves. Repeat with another 2 packets of icing and cover all 4 pieces of jam roll. Place the rolls at the corners of the rectangle cake, on the board.
Make sugar syrup to brush over the cake for a glossy effect. We used one part sugar to two parts water and boiled for five minutes. Then brushed on with a cooking brush.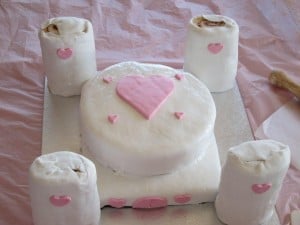 Add pink colouring to leftover pieces of icing and knead in until the colour is even. Roll and then cut into various shapes. We used a large heart cutter for the top of the cake and smaller hearts for the top. Medium-sized hearts were used for the windows in the tower and front of the castle. One section of the large heart cutter was used to create the shape for a door and indents were made with a knife to create door handles and "two doors''. Each should stick onto the sugar syrup coating. If not, stick with melted white chocolate.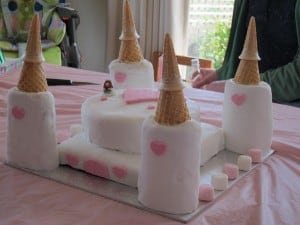 Melt the white chocolate, dip the 4 large ice cream cones into the chocolate and then press into the tops of the 4 jam rolls. Place 4 small ice cream cones on top of the large cones.
Decorate with fairies (or princesses) and marshmallows around the edge of the board.
Do you have a favourite birthday cookbook? 
For more birthday inspiration, try:
How to make a Princess tiara birthday cake in two hours
How to keep guests happy at a one-year-old's birthday party – birthday party food ideas
Free downloadable birthday party invitation
Fabulous gifts for a one-year-old girl's birthday
Please note: Some links are affiliate links. This means if you choose to buy from the company in the future, I may receive a commission. This doesn't impact how much you're charged.