BEFORE buying baby products I've always spent hours reading reviews to make sure I was buying the best for the girls. Valco, Oricom and BabyBjorn kept slapping me in the face while I surfed the net. You know, back in the days when I had hours to waste on the internet.
We were fortunate enough to be in a position to buy quality products from the start, the majority of which have lasted the distance – two children and four years. If only I could say the same for me. Looking a little worse for wear these days.
When Li'l Holly turned one this month, I began packing away what have become some of my favourite products. As each product was placed in a box, I thought how nice it would be for others with young children to experience just how fabulous some of those brands are.
So, without further ado, here are some of the Baby Products We've Loved.
Valco EVO2 stroller

WALK into our house and you'll see Valco dotted throughout – Valco feeding chair, baby rocker and our beloved T3 Plus stroller. What won me over with the T3 Plus is that, while it's a compact umbrella style stroller that's easy for me to handle (I'm only little, remember), it's still extremely sturdy. Ella has even been known to jump into it now at age four. Yes, poor Li'l Holly.
Our zip-in storm cover and zip-in UV mesh have been well used (more the storm cover, with Tassie's weather) and are easily stored in the underneath basket. I also have easy access to Twitter, with the zip storage pocket at the back holding my smartphone. Throw in a five-position reclining seat for sleep times, 4 wheel suspension for smooth travelling and some easy grip, ergonomically angled handles for mum's poor arms and you can see why I find this one hard to fault. We're even taking it to Melbourne with us next month.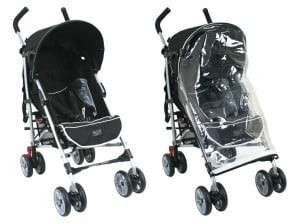 OK, so maybe if it looked a little more like this one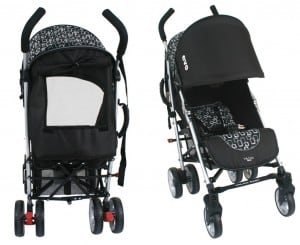 – the Valco EVO2 stroller – then it would be perfect. The EVO2 is the newest model, which comes in two funky designs: Chainz and Arctic.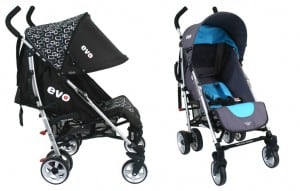 How nice is Chainz? It features a no-pinch-hinge to save pinching fingers when it's being folded, along with lockable swivel wheels, adjustable footrest and compact fold with carry handle. And guess what? You could win the NEW EVO2 MODEL.
Favourite part: It's easy to assemble and pack away, which means more reasons to go shopping. Hmmm, slightly dangerous. EVO2 is valued at: $199.
You can find more about Valco at www.valco.com.au, plus be sure to connect via Facebook and Twitter to keep up with future specials, news and competitions.
 * * *
Oricom Secure610 Premium Digital Baby Monitor
I confess, we bought a different brand of baby monitor when Ella was a bub and soon regretted it. There was static noise, interference and the antennae started to break. So when Li'l Holly came along we decided to upgrade. After hours of research, the end result was our much-loved Oricom S500.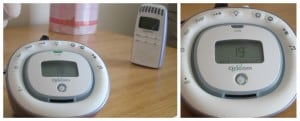 Not only does it offer crystal clear sound, but every night Holly drifts off to the sound of lullabies that play through the base and handset. The handset also features a torch – perfect for our night feeds and displays the room temperature – it even has an alarm sound and/or light when it's too cool or hot. Then there's the parent talk back system: "Go back to sleep, Holly'' and charger. I might add that fully charged it lasts for hours and has a pretty extensive range.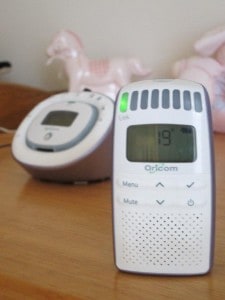 This is one smart little unit and is still being heavily used in our house – and probably will be for a while. The latest Oricom SC610 monitor has many of the same features. In addition, it projects soothing starry night images onto the nursery ceiling. Oh, I want one of those.  It also has 19 classical tunes, lullabies and nature sounds and vibration alert with alarm function for feeds. And guess what? Yes, the winner will get the new Oricom SC61 model.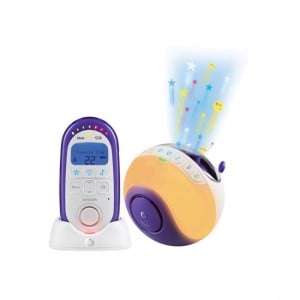 Favourite part: Being able to grab the remote in the middle of the night and turn the lullabies back on if Li'l Holly stirs without having to get out of bed. Lazy? Yes! Oricom Secure610 Premium Digital Baby Monitor is valued at $199.
You can find more about Oricom at www.oricom.com.au and buy direct from the site. There are some exciting giveaways coming up on the Oricom Facebook page so don't forget to like them.
 * * *
BabyBjorn baby carrier Miracle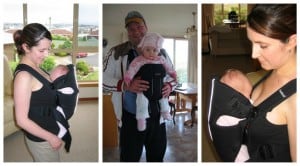 The BabyBjorn carrier was our saviour for both girls. With Princess Ella (pictured above), it was the one thing that allowed us to settle her when she was battling colic in those early months. I'd do a couple of laps of the house and she'd be out to it. It was the upright position and being close to me that were the keys.
With Li'l Holly, the BabyBjorn saved my back. She is twice the size of her sister at the same age, so popping her into our beloved BabyBjorn made carrying her so much easier. And I've mentioned before about using it during arsenic/witching/feral hour.
What I love about BabyBjorn is how it's ergonomically designed for parents and children, it has good head and neck support, it allows the change from inward facing to outward as baby gets older and it has plenty of cushioning for support. I was also able to unlatch the front and place the girls straight into their beds without waking them.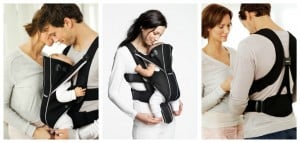 The latest version, the BabyBjorn baby carrier Miracle, is designed to be used from newborn to 15 months thanks to consulting leading peadiatricians. There's even an innovative size adjustment buckle on the inside of the carrier to make it larger as baby grows.
Favourite part: Hubby and I are worlds apart when it comes to our shape and size (see photo above for proof), so easily being able to adjust it was essential for us. The new BABYBJORN baby carrier Miracle is valued at $199.95.
You can learn more about the latest BabyBjorn carrier www.babybjorn.com.au. BabyBjorn has an active Facebook page so make sure you add yourself to their page.
* * *
Would you like to win all three products? For a chance to win a Valco EVO2 stroller, Oricom Secure610 Premium Digital Baby Monitor and BabyBjorn baby carrier Miracle VALUED AT $600, simply leave a comment telling us your favourite baby product. The giveaway closes Monday, November 28 at 7pm and a winner will be drawn randomly and announced on this blog and via Facebook and Twitter. Australian residents only. Limit of four entries.
Want extra entries? Then here's how you can up your chances in the draw. Each task is worth one extra entry, but must be included as a separate comment (or it won't count).
Click the

Facebook

button below and share this giveaway with your Facebook friends. Then leave a separate comment saying something along the lines of "I've shared this on Facebook''.
Click the

Twitter

button below and share this giveaway with your Twitter followers (Twitter handle is @ThreeLil). Then leave a separate comment saying something along the lines of "I've shared this on Twitter''.
Follow me via the Google Friend Connect button over there in the sidebar and leave a comment telling me you're now a follower.
**DISCLOSURE: I did not receive any item for review. All products were purchased. All opinions expressed are purely my own.
Check out more giveaways in the Aussie Giveaway Linkup.

Hosted by Three Lil Princesses