WHEN it wasn't raining at the Melbourne Zoo on Saturday, we were drenched from the hot rain dripping off the trees. However, in the words of a corny cadet journalist, it didn't dampen our spirits. See?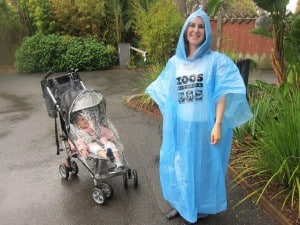 How dashing do I look? Actually, don't answer that. If I had realised there were kid ponchos, I would have snavelled one of those.
It was then followed by a Bear Grylls parenting moment, when The Bloke in The Shed had to master a dummy chain from the plastic of his fetching blue poncho to stop Li'l Holly from dropping her pacifier onto the ground – and possibly into poo. The animals. Not hers.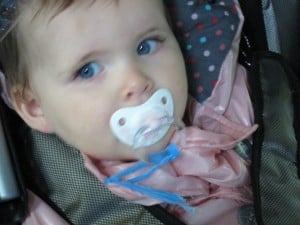 The monkeys were a wonderful start to our day, including this little guy who was keen on giving hubby a lip-smacking kiss.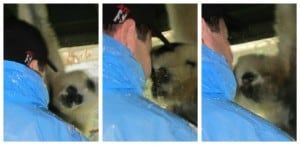 It was all fun and games until he decided to start drinking his own wee. I'll refrain from showing you that photo.
Princess Ella was taken to the Melbourne Zoo when she was 14 months old – nearly the same age as Li'l Holly now. Of course, Ella has no memory of it, but we vividly recall how much she enjoyed it, making all the different animal noises she'd just started to master. One of the highlights from that trip was the excitement in her eyes when she saw a butterfly land on her Uncle Rick's shoulder.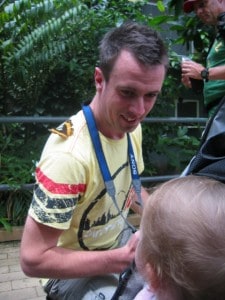 We tried to recreate that moment this time but, of course, it didn't happen. I did manage this pretty photo though.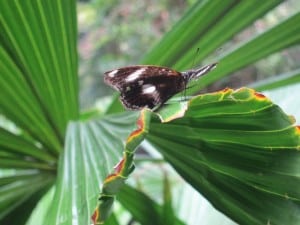 And a similar shot of Uncle Rick with Li'l Holly.
Speaking of déjà vu moments, this was Ella as a tot, cuddling up to her dad as they watched the elephants together.
This is about the same spot, watching the elephants again now a few years on.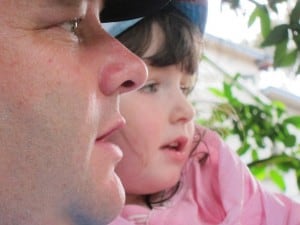 It's fair to say, the elephants are still a big hit for the O'Briens, especially that beautiful baby elephant who, just like Holly during a fussy Wonder Week, stuck by her mum like glue.
Sadly, it was at this point the camera battery died. It was my fault for not charging it, but let's just keep that one between ourselves. Thank goodness for iPhones with HDR though. It allowed us to get Ella's favourite animal, the giraffe, along with the seal show (truly fabulous), the new mini aquarium area (well, new since we were last there),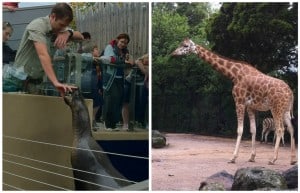 witnessing an alpha male moment between two lions (quite chilling)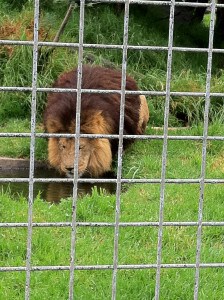 and Ella's first ride on the carousel (and about my 10th).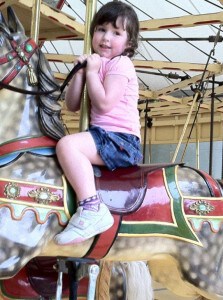 Although, movement was a little challenging for the iPhone.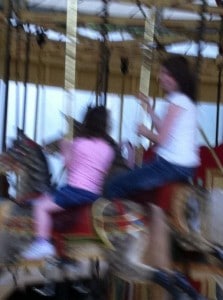 There were two other creatures we weren't bargaining on. The first was this little fella: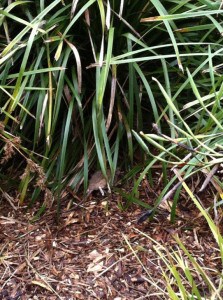 Can you see the rat? Not sure if he is factored into the price of admission or not. And then this rather jolly creature: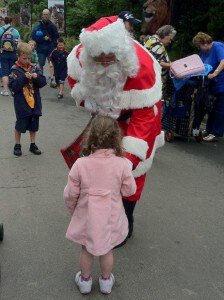 As if Ella's eyes weren't already falling out of her head. He may well have outdone seeing a giraffe for her.
We thoroughly enjoyed our day at the Melbourne Zoo, despite the rain. The variety of animals on show is always impressive and the ability to get so close and see how they would interact in their natural environment is quite surreal. We were also thankful for all those viewing platforms in keeping us dry. Our only feedback would be on the bistro meal, which could have been a little heartier for the price. But a minor point in the scheme of the day.
The zoo is one of those wonderful attractions that has no age barrier – from Li'l Holly at age one to the many grandparents wandering around. I highly recommend it for your next visit to Melbourne, especially if you love learning about new animals. And we'll be back again, for sure.
Cost: Children 4-15 (Saturday, Sunday, public/school holidays) free; Children 4-15 Monday to Friday) $12.60; Children 0-3 free; Adult $25.40. See the Planning Your Visit page for concessions.
Opening hours: 9am-5pm every day of the year.
More information:  Visit Melbourne Zoo
Have you visited the Melbourne Zoo or do you have another favourite zoo? What was your highlight?
DISCLOSURE: We received complimentary passes to the Melbourne Zoo and the carousel. However, we did pay for the ponchos! All opinions expressed are my own.