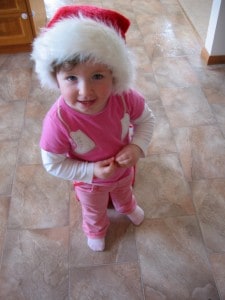 FINALLY I'm lifting the lid on a secret I've been harbouring for weeks now. I've been itching to tell you all. I know, how terrible of me to keep secrets from you. And just when you thought we had an open and honest relationship.
Below is an invitation especially for you. I know some of you have had a pretty challenging year and deserve a chance to let your hair down even for just a few hours. The aim of this event is to give parents and grandparents – especially those of you who aren't able to attend a Christmas or carols event due to family commitments – a chance to have a bit of fun. In fact, we want to leave you in fits of laughter. So, here's your invite:
You are invited to the
Three Li'l Princesses'
Carols in the Blogger Domain Party
On Saturday, December 17 from 8.30pm until 11pm
HERE at Three Li'l Princesses.com
There will be running commentary of the Seven Network's televised Woolworths Carols in the Domain, silly Christmas quizzes, ridiculous photos, the best (and worst) Christmas-themed videos, lots of laughs and, of course, some goodies to be given away from Santa himself. He's feeling rather generous this year too. There are more surprises in store, but we're keeping a lid on those just a little longer.
There's no need to sign up to anything, log in, give us your personal details or RSVP. Just bring along your bottle of wine, box of chocolates and your favourite dressing gown to the palace from 8.30pm on December 17. The signs will show you the way!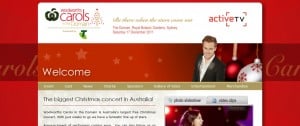 We're also working with the lovely people behind the Woolworths Carols in the Domain so you'll be among the first to hear who's performing at this year's event – just make sure you either subscribe to the blog or follow us on Facebook or Twitter. Plus, don't forget to visit www.carolsinthedomain.com
We had an incredible response from our Royal Wedding Pyjama Part-ay earlier this year, but we promise this one will be even better.
So, I want to know, who's your favourite carols singer? And no funny jokes about me.
*  *  *
If you can't wait for the lovely prizes in store on the night, why not try your luck below. And don't forget, if you haven't filled in the Australian Women and Social Media survey conducted by myself and the lovely Louisa from Brand Meets Blog and Everything Is Edible, there's still time. You could score yourself a $200 voucher in the process.
If you're a blogger or business wanting to take part in the Aussie Giveaway Linkup:
Only link directly to the giveaway post/s and include the prize and end date in the linky tool below. Link each giveaway separately. If you need to delete it, hover over your link, wait until the red "x'' appears and click.
Giveaways must be open to Australian residents.
Grab the button to add to your post.
A new list is added each Sunday so bloggers need to add their links weekly.
Start entering the giveaways!

Hosted by Three Lil Princesses

Hosted by Three Lil Princesses