Today is day seven of the 10-day Virtual Book Tour for the Only Hearts Should Be Worn On Sleeves: The Snotty Truth About Motherhood ebook. Being a journalist, I couldn't help but want my contribution to the tour to be an interview. So here I am, interviewing myself. Yes, there is nothing I won't do!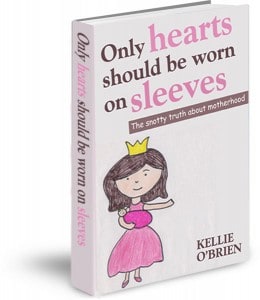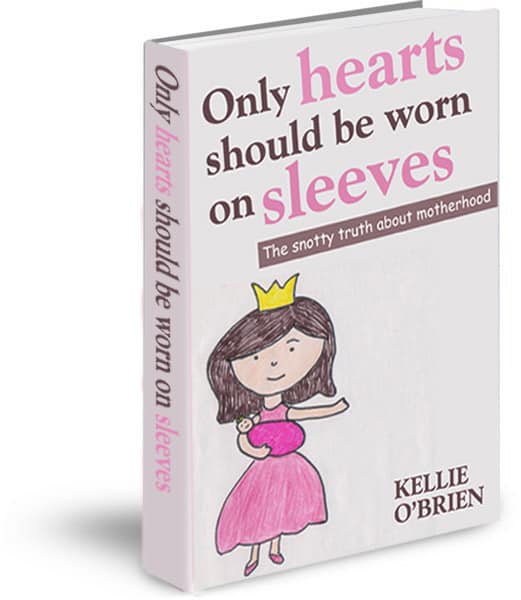 How did the idea for the "Mum's the Word" Advocate newspaper column come about?
I was up the duff. I like writing. I just put two and two together and came up with a mum column. I might add, I had no idea what a mummy blog was at this stage.
What sort of response did you receive from the community about the column?
There were no picket lines outside the Advocate offices, so I took that as a good sign. We had the odd person who was shocked at seeing terms like "up the duff" in their newspaper and banter about your "girls" leaking, while others mobbed Ella in the street as if she was some mini superstar. Thankfully, she hadn't mastered signing her name by this stage or the whole thing could well have gone to her head.
Why did you decide to form the columns into an ebook?
It could be said I didn't want to see them buried forever in the dusty archives of the newspaper file room. Maybe I also had visions of buying a Porsche Boxter, but hey, I'll take the Hyundai Getz.
What's the best way to describe an ebook, for those who don't know what it is?
It's a way to carry this: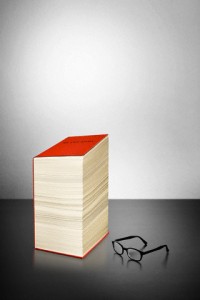 in your handbag without putting your back out.
Who would the ebook be an ideal gift for?
Anyone who's had anything to do with babies or mothers – so pretty much everyone. And Mother's Day is precisely 14 days away. Order it, include mum's email address and it's all done for you. You can thank me later. As can your mum.
What's the best reaction you've had from the ebook/columns?
"You made me snort my wine through my nose.'' This person clearly needs professional help for their little problem.
Where can I get a copy? I want one NOW.
Of course you do. Just click this link and you'll be reading within seconds!
The tour features a few giveaways of the ebook, but you'll need to be quick as some are ending in the next day or two. Now onto some other giveaways…
If you're a blogger or business wanting to take part in the Aussie Giveaway Linkup:
Only link directly to the giveaway post/s and include the prize and end date in the linky tool below. Link each giveaway separately. If you need to delete it, hover over your link, wait until the red "x'' appears and click.
Giveaways must be open to Australian residents.
Grab the button below to add to your post.
A new list is added each Sunday so bloggers need to add their links weekly.
Start entering the giveaways! Entry is at your own risk. We do not take responsibility for unfulfilled prizes or a blogger/business not abiding by their own terms and conditions.

Hosted by Three Lil Princesses