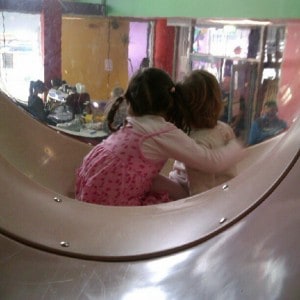 Chalk and cheese, Carlton and Collingwood, wine and water or Ford and Ferrari. It is a pleasure to be the father of two girls who are completely different in personality.  Now I'm not saying one is better than the other. Just different.
Ella has been daddy's little girl from the moment she was born four years ago.  Again, she and her mum are very close, but – much to mum's disgust – Ella knows she has me wrapped around her little finger and uses that advantage unmercifully.
Little Holly is another story.  Due to the fact I've spent much of her lifetime getting Ella "out of mum's hair" it has taken Holly and I time to develop the same formidable bond.
Recently, she has become enormously affectionate – spontaneously wrapping me in bear-like hugs and planting long, wet sloppy kisses on me at will.  Those moments make me deliriously happy.
What I love about my two "little girls" are their differences.  Perhaps, like many first kids, Ella has been over protected and as a result is a bit of a wuss, scared of any height above my shoulder height and – in the nicest way – a bit of a sook.
Holly, on the other hand, has no fear.  We played a practical joke on the girls at Easter disguising chocolate as rabbit poo and while Ella looked on in disgust, Holly was filling her face with said "droppings''.  Typical "second child syndrome".
Recently we took both girls to the opening of a new children's play centre in a city close by and the differences of the girls were on show.  Ella (4 ½) wanted no bar of the big three-humped slide – even with mum or dad.
Holly (18 months) not only flew down the slide with mum and dad on each occasion, but wanted more and would stage a countdown at the top of the slide: "Eddy, Set, Ghooooo''.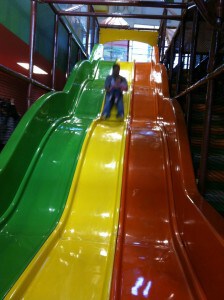 You all have read plenty about Ella on this blog.  Holly is her fearless, stubborn, determined, individualistic and contented sibling.
We love them both as individuals and more importantly (despite the occasional hair-pulling incident) they love each other.
What sort of relationship do you have with your kids? Are they like chalk and cheese?