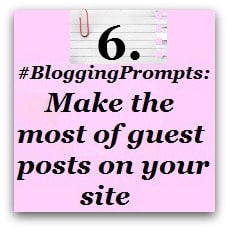 After last week's blogging prompt on opening yourself up to guest posts, a few questions came in, including from Cie and Rhonda, about how to go about pitching to potential guest bloggers and then how to make it work.
Here are my tips:
Pitch to bloggers where the opportunity is mutually beneficial. If you're a business, for example, maybe look to another mum in business whose blog style is in a similar vein to you and has a similar sized social media following. It's a great way to help each other out and build each other's followings.
Some bloggers provide guidelines for guest posts, which can make it easier to manage. This can include things like ideal post length, ideal number of images, how many links you're willing to offer them in the post and what format you like to receive the post in. This prevents any niggling problems down the track.
Let the blogger know when their post is going live in advance. Send them a link if you're able. I would suggest once you've scheduled the post, to put the link into bit.ly and share that link with the guest blogger. That way you can both track how much traffic came to it and from where.
Once it's live, make sure to share it on all your social media platforms. It's good etiquette for the guest blogger to do the same, but many come into blogging unaware of this, so a gentle reminder in your blogger guidelines, and maybe within the context of an email, can help. As mentioned, this is about helping grow each other's blogs or sites.
Likewise, with comments left on the post, it's generally accepted that the guest blogger will respond – after all, it's their story they're sharing. However, you may need to give them a gentle prompt on this. You are welcome to add to the conversation as well, of course.
You never know, but it may be the start of a relationship where you're able to continually support each other's endeavours with future social media shout outs, blog posts and business or blog support. It's certainly opened up some wonderful relationships for me.
Do you have any other suggestions to add to the above to make accepting guest posts run smoothly?
FREE COURSE
Click the image below to learn how to make money from blogging in this 7-day mini course