Date night doesn't happen here often. OK, who am I kidding? It never happens.
If we go out, it's always for a business-related event. Or we have children in tow. We're celebrating our 10th wedding anniversary in December and we're seriously contemplating going out for dinner – with the girls! As long as we end the night with a movie. Although, Julian will probably choose to watch Love Actually – again. No joke!
When Roadshow sent through two movies to review last month, we thought it was a good excuse to curl up on the couch and just forget about the world for a while. We got a nice bottle of wine, a block of Cadburys and headed for the big lounge. It's got to be a special occasion to go in the big lounge during colder months, because it means putting on an extra heater. I know… sad, isn't it! It brought it home to us that we need to do this sort of thing more often.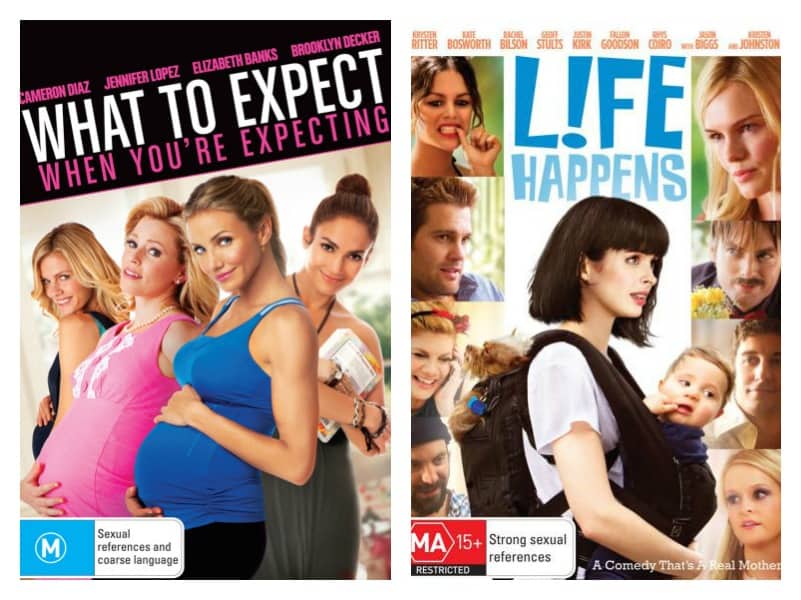 Here are the two movies we watched:
What To Expect When You're Expecting
Speaking of Love Actually, What to Expect When You're Expecting is set up in a similar fashion, with different storylines coming together at the end – though it doesn't quite reach the same heights. It features a who's who of Hollywood and a myriad of plot lines. These involve Cameron Diaz as an up the duff fitness instructor, Elizabeth Banks as a heavily pregnant babywear shop owner and Jennifer Lopez as a baby photographer who takes the path of adoption.
I went through all gamut of emotions with this one – laughing out loud one minute and bawling my eyes out the next. Julian said he enjoyed it, but it wasn't something he'd rave about. I think it's the ideal film to see with girlfriends, because so much of it is relatable. The characters are well crafted and funny, and the storylines predictable but will certainly sustain your attention. We spent much of the film trying to figure out which couple we were! Insert pregnant pause…
Summation: A parenting version of Love Actually, that doesn't quite reach the same heights.
L!fe Happens
Deena (Kate Bosworth) ends up with the last remaining condom in the house, leaving Kim (Krysten Ritter) unprepared. Nine months later, Kim is a single mum living with Kim and Laura (Rachel Bilson). The movie tracks Kim's struggles as she comes to terms with dating and being a mum.
This took a lot of getting into and we really had to persevere with it. The first half is quite dark and doesn't feel like it's moving anywhere. It was worth hanging on for though, as the final half of the film lifted and made the wait worth it. One of the themes of the film – friendships between women of a certain age as they change from partying to parenthood – is an interesting one. However, the script really needed some work. This will appeal if a bucket of ice cream on the couch is on the agenda.
Summation: Worthwhile seeing for the theme it touches on, but will need to persevere through the first half.
We're giving THREE DVD packs of What To Expect When You're Expecting and L!fe Happens. All you need to do is tell us your funniest or most embarrassing parenting moment. Fill out the form below.
Terms and conditions: The DVD competition will be judged on creativity and originality. The competition opens Friday, November 30, 2012 at 9pm AEST and closes on Monday, December 17, 2012 at 7.30pm AEST. One entry per person. Australian entries only. There are three prize winners. The winners will be notified via email and name published here. Entries remain the property of Three Li'l Princesses and may be republished.
If you would like to learn about more of our giveaways, make sure you sign up to our eNewsletters. You'll also find more giveaways in the Aussie Giveaway Linkup.
DISCLAIMER: I received a copy of What to Expect When You're Expecting and L!fe Happens to review. I have not been paid to write this post. All opinions expressed are purely my own.