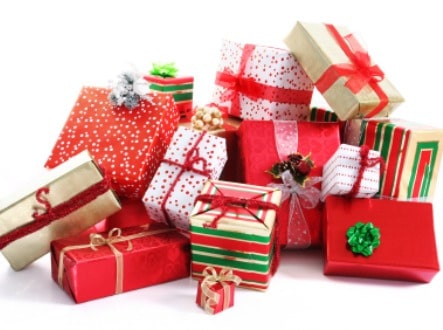 How on earth did Christmas come upon us so quickly? I'm in last-minute Christmas organising mode, so I thought I'd write down some of the things I need to get done in the hope it might help someone else too. Plus, some of my bloggy friends have some amazing resources that I'm relying on this year and thought were well worth sharing.
OK, here's the countdown:
12 days till Christmas:  Finalise all your last-minute Christmas gift shopping. Make all the necessary purchases at your local stores or get in online orders to ensure they arrive before the big day. Don't forget Santa stockings, with items for creative kids through to outdoor adventurers.
11 days till Christmas: Clean up your outdoor area, including replacing missing outdoor light bulbs, removing clutter and adding a wreath to the front door.
10 days till Christmas: De-clutter the children's toys and set aside those toys you'll want to send to your favorite children's charity organisation. It will still get to the recipients in time. If you've already done this, congratulations!
9 days till Christmas: Update you phone book, address book and diary (whether the paper, computer or phone variety) ready for holiday greetings. I somehow forget to delete old numbers when people give me their new number. Although, it can lead to some interesting conversations with strangers.
8 days till Christmas:  Print holiday labels and gift tags. Check these sites out for your printable gift tags and print and fold gift boxes.
7 days till Christmas: Now you have the labels sorted, it's time to wrap gifts. Create a Christmas toolbox for wrapping and look through Pinterest for gift wrapping inspiration. Then be sure to hide the gifts well!
6 days till Christmas: Make great holiday memories for the children by doing craft activities, like Christmas day placecards, Christmas crackers or even write a letter to Santa.
5 days till Christmas: Now the kids have had their fun, it's time to treat yourself to a spa package and shape up for the best holiday mood. A happy mum makes a happy family – and don't we know it. Get your hair done, a manicure, pedicure, foot spa or body massage. Who said you can't give a Christmas gift to yourself.
4 days till Christmas: If you haven't already, finalise your Christmas day menu plan. Create an inventory of ingredients for your holiday baking. If necessary, do your last minute supermarket trip.
3 days till Christmas: Do as much baking as you can today to make things easier on Christmas Eve. Get everyone to help out in the kitchen. Unless, of course, they're aged two and are more interested in licking bowls and spoons. You can easily pre-do rum balls, shortbread and those cute little Christmas puddings.
2 days till Christmas – Give yourself a beauty rest. Relax, read a book or watch a movie and get enough sleep..
Christmas Eve – Complete your holiday meals.
OK, what have I missed?
photo credit: queenbeeofbeverlyhills via photopin cc