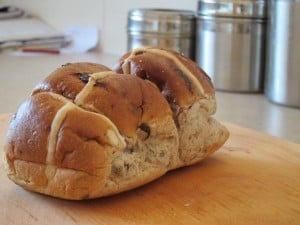 I'VE been a bit of a hot cross mum lately. Princess Ella has been testing my patience to the point I've had to resort to ringing Easter Bunny. At this stage, Easter Bunny won't be visiting our house due to someone misbehaving (at this rate, not for the next 10 years).
Usually I wouldn't stoop so low, but with the end of daylight saving, 4am starts to the day and Baby Holly popping two teeth at once and going through Wonder Week 26, I veered off the path of good parenting and picked up the phone. I will, of course, ring him back and invite him to drop off some eggs. I am not that mean.
The real problem is two-fold. Firstly, there's a little girl who's not getting enough attention because mum is always throwing her boobs about breastfeeding Holly or trying to get Holly to sleep. I try my best to do as much craft, drawing, "hairdressers", telephone calls to Dorothy the Dinosaur and hide and seek (with the bonus of getting five minutes shut eye under the bed) as I can. However, for her, it's just not quite enough.
The second problem is, dare I say it, me.  Romina from Martyr-hood put it best when she said
" how you feel about yourself, actually reflects in your own children''
and that
"anxiety is contagious''.
This struck a chord with me because, well, the reason Ella is a grumpy pants, is because I'm a grumpy pants. Time for new undies, I say.
After reading many blog posts about mums being grateful for their lot in life, I'm determined to change my ways. Naomi of Seven Cherubs has started a Happiness Project that I've jumped on board and I've already posted by first edition in Maxebella Loves' I'm Grateful For meme.
So Tuesday morning, as I set off on the road to get Holly's six-month immunisation shots (yes, more reasons to jump for joy), I decided to get up and get happy.
So I started singing at the top of my lungs – always guaranteed to make me feel better. I belted out a stellar rendition of Play School's Ning Nang Nong where the cows go bong and the monkeys all say boo, and was halfway through Der Glumph went the little green frog one day when I realisedd Ella wasn't even in the car with me.
A little embarrassed, I quickly flicked on the radio and got rather disappointed by some bumpin' grindin' pop tune with no melody. It was at this point I realised how old I was. Back to the Ning Nang Nong.
The end result was, however, that I'd released the beast and felt much better. I'd recommend it too. And if that fails, there's always chocolate. Although, I'd better go ring Easter Bunny first.
So come on, sing it with me…
How do you overcome "challenging'' days with the kids? What makes you feel good?
Read about the follow-up phone call to Easter Bunny.