RETURNING home from Princess Ella's 3.5-year check with the child health nurse yesterday, there was great relief in being able to log into social media and ease some of my fears. Fear? What fears would I have?
She's ahead in her development. Her vocabulary is beyond what it should be (I only actually discovered this yesterday). She has great talent in creative pursuits. Physically she's capable of all manner of activities. She's mastered the alphabet and counting. She's fit and healthy. In the words of her favourite movie character Mary Poppins, she's practically perfect in every way.
Except for her eyesight. During the test she was thrilled she got to look like this (well, the eye patch part):
Meanwhile, I had other things racing through my mind. Both eyes together aced the test (she even got praised for picking up the letters so quickly) and the right eye was spot on. But the final two letters to test the left eye were off – all three times. To add to that, she kept turning her head to the side to try and see better. We're now on the path to getting a referral to see a specialist.
There were some wonderful comments on Facebook and Twitter. Among them were mums whose little ones:
had temporary eye strain so wore glasses for a short period of time;
showed signs of eyesight problems during the initial test, but aced the specialist's test;
wore glasses from 11 months of age (imagine the fun trying to keep them on!);
fooled their parents with incredible memory recall, but actually had bad eyesight.
In all, the main message was it's natural for us to worry but it's a minor challenge in the scheme of things. And if she does have to have glasses, they're now far cooler than they were in our day. One little boy was even chuffed he was going to look like Holden driver Mark Scaffe. Very cool.
I had fears Ella would end up looking like this: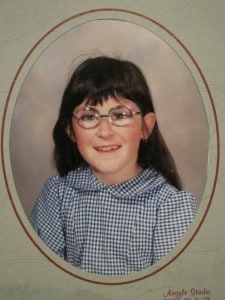 Now that you've finished laughing, I should probably tell you that four-eyed little girl with the coke-bottle glasses is…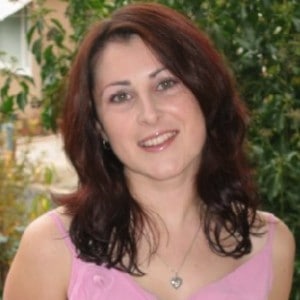 ME!
I'm severely long sighted. Thank goodness for contact lenses, you say! On a positive note, it's congenital, not hereditary. So she can't blame me. Anyway, we'll keep you posted on her progress.
Does your little one have glasses or eye sight challenges? How did they cope?