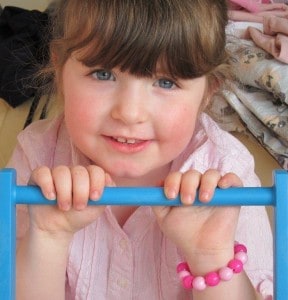 THIS week's Grateful For post was all planned out in my head. It was going to be an absolutely cracking read – as always. However, something happened last minute today that made me use the word "grateful'' in a sentence. So I'm posting about that instead.
OK, let's start from the beginning:
End of June: Ella's child health nurse played some fun eye games with Ella before dropping the bomb – Ella was slightly vision impaired in her left eye. Probably not worth a whole post, but that's what you got.
August 4: We were given a referral to a specialist, who happened to be on holidays. So we got his registrar. After the saddest face I've seen on Ella in a while after having drops and bright lights flashed in her eyes, we were told the news I'd been dreading – Ella would need glasses.
August 10: Finally got around to getting her to the optometrist to choose what were going to be "pink glasses like Rhapsody from The Fairies''. I had fears it would end up looking more like Esme Watson from A Country Practise. However, I couldn't find the prescription. I swear, it wasn't me. Like a kid who lost her homework, I had to call for another. I mustered up the courage, only to be told that (for reasons I won't go into), Ella would need to be retested. *sigh*
August 17: The female specialist revealed Ella was slightly long sighted in her left eye. OK, a little more information is good. With these results, the senior specialist then came in and said he'd like to see her himself two days later. OK, should I now be worried?
Yesterday: We played doctors and nurses, putting "raindrops'' (Ella's term) in patient Ella's eyes for much of the day (there's nothing like a bit of role playing to make the real task easier). That night I scored the wishbone from the chicken at dinner. "What's your wish, Mum?'' Ella asked. "I can't tell, or it won't come true,'' I said.
Today: After successfully getting the "raindrops'' in both eyes and making it to the specialist without too much panic, 10 minutes later he announces my wishbone wish had come true: "Ella doesn't need glasses''. What? Seriously? I have been through all that and now… nothing? More correctly, we had the choice to give her glasses and see if it improved the slight prescription she has or do nothing. After 90 seconds of silence, he then said: "I don't think we'll worry about glasses.'' Ahhhhh, such relief…..
She will have to return in December for another check up (will keep you posted) but for now, at least, it seems glasses – and the Esme Watson look – are not a part of her life.
So, the moral of this story is that sometimes when things go wrong they can actually turn out to be something you are truly grateful for.
I'm joining with  Maxabella Loves to share what I'm grateful for.