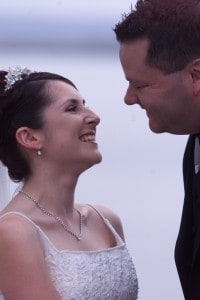 THIS week I was honoured with the editorship of The Advocate Newspaper. It's the paper I grew up reading as a kid (mostly comics and the footy achievements of my brothers). It's so much more than that though. It's where I met Princess Kel.
Despite growing up in neighbouring towns, Kel and I were not destined to meet till that one day I happened to walk into the then Editor's office as a young cadet to find this pretty little thing sitting there. Kel doesn't remember that moment. I do. Like it was yesterday.
In those early days at the newspaper, our lives were heading in different directions… till events made us realise our shared feelings. A sneaky kiss in the newspaper's file room (which funnily enough is now the IT dept) sealed the deal.
From then on, while being different individually, we have been almost as one. Our strengths and weaknesses complement each other. There is no doubt my sometimes over-the-top personality helped Kel evolve from a shy, young journo into a confident writer, while I would not be an Editor today without her calming hand and sound, measured advice.
Yet, our greatest achievement has nothing to do with the newspaper directly. It is the two princesses we have been blessed with – Ella and Holly. Whatever you achieve in your working life is great, but it can never supersede what you have as a family.
Follow me on Twitter at @Julian_OBrien or the TLP blog on Facebook.