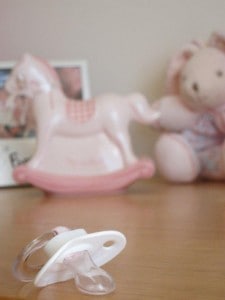 MONTH NINE: I had such high hopes I wouldn't need to write this month's Sleep Challenge.  Unfortunately, my month has been plagued with teething and developmental leaps. Yes, just call me lucky, I guess.
I envisaged sleep deprivation would be a thing of the past. After last month's sleep through, I thought I was on the path to sleepy heaven. Alas, no. Here I am, bags under my eyes, and blinking like a camera shutter in a room full of babies.
Baby Holly even teased me four nights in a row this week by sleeping from 7pm 'til 7am and only having two shorts feeds. Then that was thrown out the window Wednesday night, when yet another toothy peg started to emerge.
SOLUTION: Here's what I know about coping with teething and sleep?
Give the recommended dose of Nurofen or other ibuprofen. Ibuprofen is more suited to teething as it deals with targeted pain, while Panadol deals with all over pain and fevers. However, some suggest alternating between the two during teething, which we've found to be effective.
Bonjela teething gel – or, as we like to call it, Bon Jovi minus the big hair. This only last 20 minutes and can't be used again for three hours. However, it often helps Baby Holly resettle quickly.
A breastfeed or bottle feed. Sometimes I think this is more about the cuddle comfort than the feed itself.
A cold, clean finger rubbed on the gums. Yours, preferably.
A cold pacifier for them to suck on. I just run it under the tap for a few seconds.
Cuddles. I've been known to sit in my comfy feeding chair, bub in arms and just rock back and forth for an hour. Whatever gets you through, right?
Let them cry. Eventually, they will fall sleep. I only tend to use this method when I'm at my wits end. This is really a personal choice, as some parents just don't like the thought of leaving a baby when they're in pain.
Read more from the Sleep Challenge.
What do you know when it comes to coping with a teething baby at night?
Disclaimer: This is based on my personal opinion and experience. I am not a medical professional, so please seek medical advice if you are at all concerned.