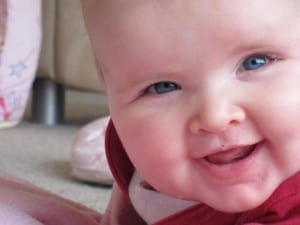 WEEK two of Naomi from Seven Cherub's Cherish Your Cherubs project is to "remember" a moment of your child/ren's life. Regular readers will be familiar with my From bump to baby in six hours post. This was Ella's birth story. It was a dream – six hours, no drugs and a huge three-course meal to follow. Ah, the memories.
However, rarely do I discuss Baby Holly's birth and I most certainly haven't recorded it. But I should. Here's why:
There's something about our li'l girls and national sporting events. I sometimes wonder if it's their first little message to their Dad that they'll forever keep him on his toes. Princess Ella was due Melbourne Cup Day, but came six days later. Much to The Bloke in The Shed's relief.
Baby Holly was due a week after the AFL grand final. That was until his beloved Collingwood Pies and St Kilda ended the big game in a draw – and had to come back for a rematch a week later. "You know what's going to happen, don't you?'' he asked. "She'll come right in the middle of next week's grand final and I'll miss the game.'' I laughed – because I'd been thinking the exact same thought.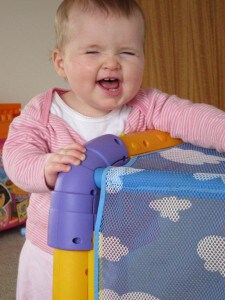 One week passed. The three of us sat down to watch the big game – again. Well, one of us did. Two of us watched The Fairies. At quarter time, I went off to do what every woman does at this point in a footy game – a whizzer.  However, I got more than I bargained for. "Ahhh, I think she might be on her way,'' I announced on my return. The Bloke in The Shed's face turned whiter than my legs at the end of winter. Unless of course some major deforestation needs to take place and then who knows what's going on down there.
His panic was partly because, well, the game's not over yet and Collingwood were a chance. And partly because Ella came in a major rush and apparently these babies get quicker each time. Should we hit the road now? In typical Baby Holly style, she teased us for the rest of the day. Unlike Collingwood, which pulled off a victory and prompted the first of many tears to come from The Bloke in The Shed over the next 24 hours.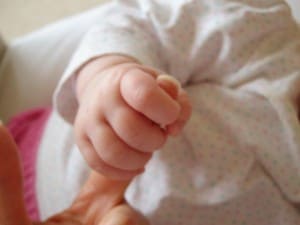 After lying awake all night, by 5am she was well and truly packing her bag and preparing for her journey. I figured I'd best do the same. I woke The Bloke in The Shed and had mum pedal faster than the Flinstones to come look after Ella, who was still blissfully sleeping.
At the hospital we settled into a room and then the bath and then… waited. I was constantly asked if I wanted drugs. I obviously looked like I was in a lot of pain. "No, I'm fine,'' I said. I'd done Ella's birth drug free, this one should be a piece of cake. Besides, I don't do drugs. But I will do a pina colada.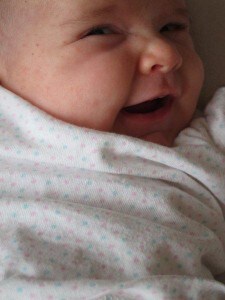 When nothing continued to happen – or not happen –the decision was made to break my waters to get things moving. Bear in mind, I'd only really been in labour a few hours. I was advised pethidine would be a good idea, so I reluctantly took it. And regreted it. But that's another post for another day. In just seven hours (I know, really, what was the rush?) Baby Holly was on the cusp of taking her first breath. This birth hadn't gone as I'd planned and was mostly a blur, but it didn't matter.
At that moment, one of the midwives grabbed our camera. Even thinking about that now makes me shudder. A million thoughts ran through my head. The loudest was: No, woman, put that thing away. Please. Unfortunately, the snaps were taken. It was like the paparazzi chasing Paris Hilton, trying for every angle possible. I kept those photos. I have no idea why.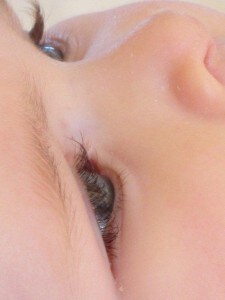 Within seconds, those thoughts had gone and instead I was totally focused on the li'l princess in my arms. As far as dried up prunes go, she was gorgeous. The tears from The Bloke in The Shed said it all. While those early moments together – just the three of us – were precious, there was a moment that superseded them all.
The magic moment, the one I most want to have recorded, is when Ella walked into the room. She burst through the doors, face beaming and, without giving her Dad or I a second glance, squealed: "Where's Baby Holly?''. Just like that. She then ran frantically around the room, trying to figure out where she was meant to be going. It had been such a long nine months for her, that the reality of her sister being here was all too much. The look on her little face when she caught sight of her brought me to tears. She was just so overcome with this little person that would now and forever be in her life.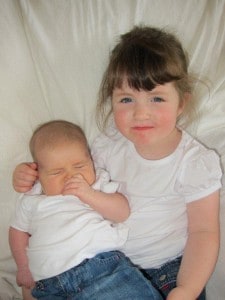 Nearly 11 months on, that love hasn't diminished. Constantly I catch them cuddling and kissing each other unprompted. I can't imagine their lives without each other.
If you have older children, what were their first reactions to seeing their new sibling? What about you – how did you react?