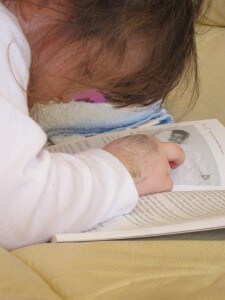 WHILE trying to build our new (non beer carton) doll's house – I stress "trying'' because we've run out of sticky tape, which is like trying to build a mud house without water – I asked Ella what colour we should make the door. Her response: "yellow''. Not just "yellow", but twist your fingers at the top of your forehead Auslan sign language "yellow".
She then proceeded to teach me black, blue, green and pink in Auslan. Did you ever doubt pink would be included? "Wait, I'll get the camera,'' I say and off I canter with the idea for another blog post. On my return, I find she's gone all shy. No, please, not again. You're never going to make it in Hollywood at this rate. *sigh*
After some pleas, begging and chocolate bribery, we filmed "the news". (Watch for her saying: "goodbye to the news"). So, finally, here's a heavily edited version of a once-again shy Ella teaching the colours of the rainbow in Auslan. Please, leave your payment at the door after you leave. Ella said: "That'll be 100 20 50 dollars, please.''  Good luck figuring that one out.


For another 100 20 50 dollars, you can click on the following links to learn: "how are you?'' and "good, thank you''; along with "mummy/daddy/brother/sister, I love you''. Oh, and let's not forget "stinky breath''. We've already found ways to use that in everyday life.