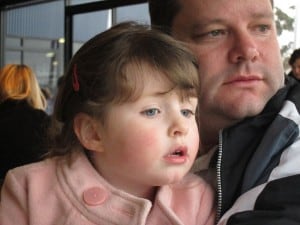 THE memories of going into my dad's work with him as a kid remain as vivid as if they occurred yesterday. I still recall every step up the stairs to the office where he ran a construction company and I even remember the distinct, peculiar and unique crisp smell of the carpet which I have never rediscovered to this day.
Being a bit of a mistake, my arrival was towards the end of my father's office professional life, but the occasional journeys with dad into his work were brilliant. It felt like I was being let into a secret society. It may even be why I trended towards an office career than a trade like so many of my brothers.
Last weekend I took my three Princesses into work with me. Princess Ella has been into my work often for short stints with me, Kel used to work there before becoming a mummy blogger and PR consultant and Baby Holly won't remember it anyway. But being in there as a family reminded me of my memories with dad.
My life has got a whole lot busier of late. Some of you may have, but probably not, noticed I've been spending a lot less time in The Shed. A work promotion has taken all my focus and left little time for thinking about tinkering here.
A little over a year ago, just to add to the schedule, I joined a service club to give back to our community and I'm clinging to a lesson from that club. "Family first, work second and service thereafter''.
While I've been working hard to establish my new work position and will continue to do so, family is the most important thing in life. I've tried to devote as much quality time with the girls as possible, hence the weekend's excursion. The girls, particularly Princess Ella, loved it – interacting with the people there and discovering a dish of chocolate caramels (otherwise known as "motivators').
It's a delicate balance, but I hope it shows my girls they are always included and a part of my life, as well as acknowledging none of it could happen without their support.
Did you ever visit your parents at work as a child? What are your memories?