STILL battling a feral teething, sleepless baby, I thought I'd tackle something more positive for this month's Sleep Challenge. Like, how to get your children to love bedtime. Apologies if you just choked on your Weetbix. I say positive, because I'm pretty thankful the princesses are in bed by 7pm and happy to be there. What's our secret?
It's something we heard from some expert on a radio program a few years back and since adopting it, it's turned bedtime around for us. Baby Holly is still a little young for this to be of any effect, but it's ideal for three-year-old Ella.
Rather than throwing them over your shoulder, legs kicking and screaming so loud it makes the neighbours contemplate calling Family Services, we do the bedtime routine – milk, books and songs. OK, nothing new there. Unless, of course, you include the addition of jokes. Knock knock jokes to be exact. Humdingers like:
Ella: "Knock knock''
Dad: "Who's there?''
Ella: "Ben.''
Dad: "Ben who?''
Ella: "You'd better go and ben-d down or you'll spread Vegemite all over your face. Hahaha!''
Not so thankful for those jokes. But I digress.
The key is then leaving on her night light and allowing her to read or play quietly until she's sleepy. I know, not very groundbreaking. But it works. The idea is that kids should be allowed to go to sleep when they're ready. They shouldn't be forced to go to sleep when they're not sleepy. This turns the whole experience into a positive one.
So now, we do our bedtime routine, tell her to read or play and that we'll check in on her in 10 minutes. Sometimes when we go back in she's out to it. Usually she's upside down and wearing half her dress up box. But she's in bed asleep, none the less. Other times she has all her "friends'' (aka teddies and dolls) lined up in bed and a book turned outwards as she reads to them. She even does the "licking your finger'' thing before turning pages.
Sure, there are periods where she keeps getting out of bed. "I need a wee. I need something to drink. I need… attention!'' We just adopt the reward system – if you don't get out, you get a reward at the end of the week. For us, it works.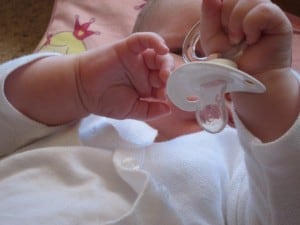 PS. This post was inspired by a Twitter conversation about what time your children go to bed, with Lina from Mother's Love Letters, Megan from Writing Out Loud (whose daughter "asked'' to go to bed at 6.30pm last night), Alli from Motivating Mum (who responded with "What! I wish!'), Kirsty from Mummy To Five (who has five in bed by 7pm) and Sarah from Whisper Mum's The Word. It was then taken to Facebook, where it exploded.
The consensus was 6.30-7.30pm. A few were 8-8.30pm. Some moved sleep times later as their children got older.
Read more from the Sleep Challenge.
Linking up with the lovely Kate Says Stuff's Thankful Thursday. Click on the link to find out what others are thankful for this week.