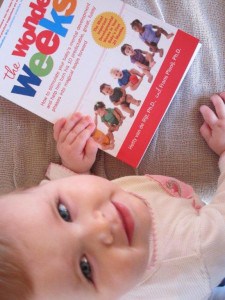 RIGHT now, Baby Holly is in the midst of Wonder Week 46. So you can only imagine how grateful I was to get hold of the updated, fatter version of the worldwide bestseller  The Wonder Weeks book. Yes, the sanity saver book I go on about on this blog, Twitter and Facebook all the time.
Yesterday I read the sections I hadn't covered in the original version as my fussy baby displayed the three Cs – cranky, clingy and crying. Oh yes, fun times here. The updated version extends beyond the original eight Wonder Weeks to now feature 10 of these fussy, pull-your-hair-out periods in a baby and toddler's life.
What I've loved about the book is it's a real eye opener to why these cranky pants periods can be so frustrating for babies… and parents. They're kind of like growth spurts, but for the brain. The book sells itself on exactly what it does: helps you to learn how best to stimulate your baby or toddler's mental development and turn the hair-pulling phases into leaps forward. It never tries to make you believe it'll turn your baby into a genius. You'll need Mozart for that.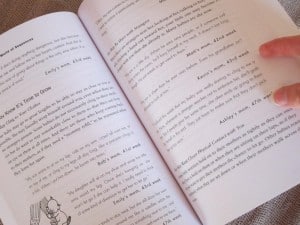 I only read the original book each time we were about to embark on another leap to see what the next lot of cognitive growth had in store. So, having now read the entire book, these are the things I loved most about it:
It not only explains why things are happening, but also what you can do to help your baby through it. It means you'll enjoy your baby more and learn how to better cope.
It's broken into the different developmental leaps, making it easy to digest. Each "Week'' is also broken into smaller categories. Plus, it's written with the everyday parent in mind. Even this sleep deprived mama found it easy to follow.
You're able to connect with your baby better through the gentle games and activities suggested.
It's packed with quotes and experiences of real parents (and let me tell you, they're pretty honest), making you feel less alone during the challenging periods. The book is like your parenting support and instils you with greater self confidence.
There's a My Diary section to allow you to record your baby's progress.
The new edition means all those people who wished it was about more than just babies can learn about the developmental leaps right up until 20 months.
The book reassures you that every baby is different. So if you baby isn't doing it "by the book'' or what another baby of similar age is doing, that's OK.
My favourite line from the book is: "we have shown that every baby is `reborn' 10 times in the first 20 months''. Lucky we don't have to go through the labour part as many times.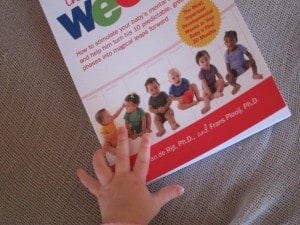 The book was written by Dutch author Frans Plooij and his wife Hetty van de Rijt, who passed away in 2003. The pair researched parent-baby interactions for 35 years. When Hetty died, the first draft of the last chapter of this revised book was ready.
While there is an app now available for iPads and iPhones, my only suggestion for the author is for it to be released as an ebook. As a breastfeeding mum, my Kobo eReader is lighter to hold and doesn't require physical page turning while feeding bub.
If you want to learn more about the book, you can:
UPDATE: COMPETITION CLOSED…. To go in the draw to win one of four copies of the new extended version of The Wonder Weeks (ranges in price from $65.95 at Angus and Robertson to $27.62 at The Book Depository) or one of two apps ($1.99 on iTunes), simply tell us three words to describe your baby or toddler right now. The giveaway closes Monday, September 19 at 7pm and a winner will be drawn randomly and announced on this blog and via Facebook and Twitter. Australian residents only. Limit of three entries.
Want extra entries? Then here's how you can up your chances in the draw. Each task is worth one extra entry, but must be included as a separate comment (or it won't count).
Click the

Facebook

button below and share this giveaway with your Facebook friends. Then leave a separate comment saying something along the lines of "I've shared this on Facebook''.
Click the

Twitter

button below and share this giveaway with your Twitter followers (Twitter handle is @ThreeLil). Then leave a separate comment saying something along the lines of "I've shared this on Twitter''.