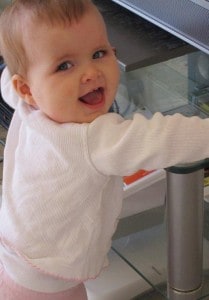 THIS week was the start of a thousand tears. My baby girl made her first leap into childcare. OK, so it was only for an hour for orientation. And the tears? Well, they were all mine. Yes, we can see who has the issues here.
So, after that first experience, these are the things I know:
This could be the longest orientation period of any child at that particular childcare centre. Baby Holly clung to me like cow excrement to a gumboot.
Over the past year she's been happy to go to anyone for a cuddle, but two weeks ago she suddenly became shier than an 18-year-old after their first night on the town. Wishing we had have started two weeks earlier now.
A large part of the problem may be the vibes she's getting from me. I know I need to chill out – or drink a shot of vodka beforehand. Or maybe not.
Bringing her big sister into the room was a great idea, because she loosened up a little. Even if her big sister was more interested in going back to "her friends''. "I need to go and see what *Gertrude's doing''. Of course you do, darling. Don't worry about your mum and your sister. We'll just continue our mini meltdown.
There will be quite a few tears in the coming weeks – from her and me!
Now, at age four, her big sister wants to go to "school'' every day and happily tottles off without a backward glance. I need to keep remembering this early period of trepidation will be short lived.
If we make little progress in the coming weeks, I know I need to just walk away. Even if it means crying for an hour in the carpark. In Ella's early days, she always settled within seconds after I left, proving that sometimes it's us mums who are the problem.
Take tissues. Lots of tissues.
My little girl is growing up all too fast. Please, someone, hit the pause button for me.
*Not her real name. Heaven help us if it was.
I'm linking up Shae from Yay for Home's Things I Know.