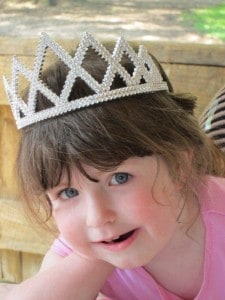 ANOTHER month, another birthday. It is seriously like that in this house.  Yesterday we marked Princess Ella's fourth birthday. Writing that down just blows me away. It seems like only yesterday I was holding her in my arms for the first time. Totally dependent. Oh, so tiny. And covered in gunk.
Now, she's a super confident young girl. A social butterfly, who can ease the toughest of social situations. Incredibly bright and a big thinker not bound by limits. And she also happens to be the funniest person I know.
We marked her birthday today with a small family barbecue at the Bells Parade park, at Latrobe,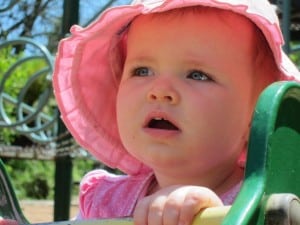 a princess tiara cake (again) made hours before the party (tutorial to come)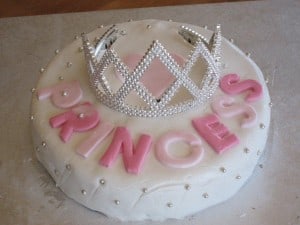 and the traditional O'Brien candle race (it's seriously like watching grass grow, but they love it). Note there are only two candles. We forgot to pack more.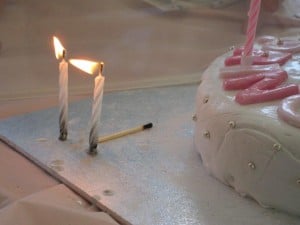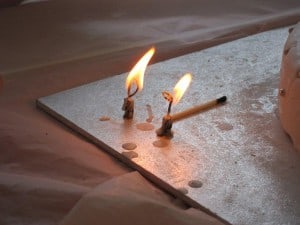 She was also spoilt with some beautiful gifts, including a 300-piece bead set. We ended up with the 300-piece bead set on the floor, at which point I was tempted to get the Dyson out.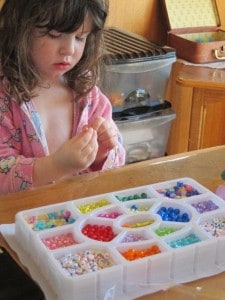 I might add the majority of her presents are still on Christmas layby. Well, seriously, what store creates Christmas laybys that can't be picked up until Christmas!
Before you go clicking to try and score yourself a bit of Christmas cheer, here's a video of Ella's first year of life, put together for her first birthday. Please, feel free to fast forward to about the 50-second mark. The first part is her family members and obviously rather boring for most readers. Every time I watch this video I end up in tears. The music is by my Twitter friend Martina McBride. Although, at this point, she's unaware we're friends.
If you're a blogger or business wanting to take part in the Aussie Giveaway Linkup:
Only link directly to the giveaway post/s and include the prize and end date in the linky tool below. Link each giveaway separately. If you need to delete it, hover over your link, wait until the red "x'' appears and click.
Giveaways must be open to Australian residents.
Grab the button to add to your post.
A new list is added each Sunday so bloggers need to add their links weekly.
Start entering the giveaways!

Hosted by Three Lil Princesses
Do all your birthdays seem to fall at the same time of year? Or is that just our family?