In one week, Princess Ella will start kindergarten – or, more correctly, big girl school. Since she began pre-kindy in October, I've been asked more times than I can count how I'm coping. Am I OK? Will there be tears? There were even tissues in the school book pack.
For the most part, I've been OK. There were a few twinges picking up school books this week, knowing my little girl has grown up. Funny how it feels like only yesterday I was worried about how on earth I was ever going to get a onesie on to her tiny body. She's still tiny, but oh so grown up.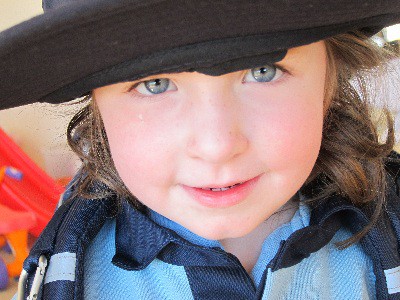 We've been blessed that nearly half her class is made up of children from her childcare group. So, in effect, it's like going to childcare – just in a new building.
What I am worried about are the silly things, like: what if her school clothes don't fit her on school morning? What on earth do you put in school lunch boxes? What if she doesn't sleep well the night before, becomes overtired and turns into a feral child for her first day? That one's probably the most likely.
Some companies have kindly helped us in our quest to start school and are willing to help you too (even if school has already started for you):
Nature's Own Omega Delight gift pack: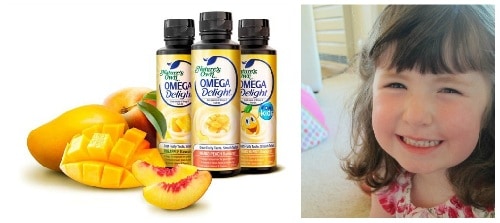 Living in an island state, we are big fish eaters. So it was hardly surprising to hear Tasmania was one of the state's to lead the nation in serving their children fish at least once a week. However, like everyone, it's probably not enough. Do fish fingers count?
We were provided with some Nature's Own Omega Delight ($21.95) this week and I was a little sceptical of whether Ella would like it. It's deemed a good source of Omega-3 essential fatty acids, with the taste and texture of a smoothie. I asked Ella: "So, what is your opinion on the Nature's Own Omega Delight Cirtrus Blast flavour?'' Ella: "Yum!''. "Hmm, anything else you'd like to add?'' "It tastes like a milkshake,'' she said. Clearly, one clever child.
Most of us now know the importance of Omega-3 fatty acids in helping brain development and it's something I've long been concerned about, especially in these crucial first years of life. Omega Delight comes in three different flavours: Pineapple, Citrus Blast and Mango Peach. Suggestions for consuming it include: on its own, in a drink or as a cereal topping. As an added bonus, it doesn't contain any sugar, lactose, dairy or gluten. That sugar part is a big plus for me.
For more information, visit Nature's Own.
Bright Star Kids Labels for Kids:

We'd reviewed the Bright Star Kids wall stickers before, so we quite keen to see what the Bright Star Kids' Labels for Kids were like. While the real test will come in the wear, within the Preschool and Daycare Label Kit I like how the name labels come in various sizes for different items and the iron on clothing labels have simple instructions (nothing complicated there).
The school shoes are super cute, designed as little feet, complete with toenails. We chose pretty pink butterflies for the design and received a generous supply of labels that will do us well throughout the year. A warning: choosing just one design is pretty tough, due to the enormity of the range.
The big appeal for me is the stick on labels are microwave, freezer and dishwasher safe, which makes them ideal for lunchboxes and drink bottles. 
There are how-to videos at www.brightstarkids.com.au
Budons Stationery gift pack:

Budons is a rather cool kids' stationery collection, that's likely of more appeal to the pre-teens. Ella seemed to see the appeal in them though. The pencil case ($12.99) cleverly organises pencils to avoid having to scramble through what are usually loose pencils in the bottom of a case.
The exterior has been well decorated (and redecorated) with Budons click-on characters ($1.49) – the Princess one her favourite. What appeals for me is being able to swap, collect and decorate books, bags and pencil cases with the Budons, as opposed to messy stickers. Oh, how I despise stickers? She also received a scratch and sniff notebook.
It's a cute concept and certainly one parents would approve of as it embraces different moods and personality types. They're just a little funky (which is probably not the cool lingo to use anymore).
Available at Target, Howards Storage World, Officeworks, newsagencies and other retailers.
For the chance to win our $200 Back to School Competition, including:
a Nature's Own Omega Delight gift pack (5 bottles),

Bright Star Kids Preschool and Daycare Label Kit

Budons stationery pack (pencil case, 3 click-on characters and scratch n sniff notebook)
And runner up:
Bright Star Kids Preschool and Daycare Label Kit
tell us in the form below: your tip for getting children organised for back to school.

DISCLOSURE: We received a bottle of Nature's Own Omega Delight, Budons stationery and Bright Star Kids Preschool and Daycare Label pack. All opinions expressed are our own. Terms and conditions: The Back to School competition will be judged on creativity and originality. The total prize value is about $200. The competition opens Saturday, February 4, 2012 at 7am AEST and closes on Sunday, February 12, 2012 at 7.30pm AEST. One entry per person. Australian entries only. There is one first prize to be won and a runner up prize. The winners will be notified via email and name published here. Entries remain the property of Three Li'l Princesses and may be republished.