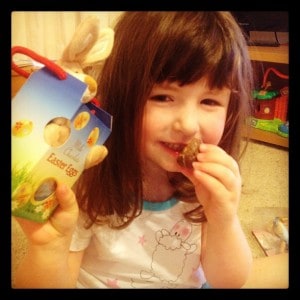 Most of you may remember last Sunday I mentioned how The Bloke in The Shed had painstakingly turned choc bits into balls to pretend they were Easter Bunny's poos. Well, just wait till you see Princess Ella's reaction when she witnesses him eating it. And then watch how fast Li'l Holly tries to stuff them into her mouth as she quickly acquires a taste for rabbit excrement!

A win to Dad! Now time for you to score a win in the linkup below. Get clicking.
If you're a blogger or business wanting to take part in the Aussie Giveaway Linkup:
Only link directly to the giveaway post/s and include the prize and end date in the linky tool below. Link each giveaway separately. If you need to delete it, hover over your link, wait until the red "x'' appears and click.
Giveaways must be open to Australian residents.
Grab the button below to add to your post.
A new list is added each Sunday so bloggers need to add their links weekly.
Start entering the giveaways! Entry is at your own risk. We do not take responsibility for unfulfilled prizes or a blogger/business not abiding by their own terms and conditions.

Hosted by Three Lil Princesses