We spent yesterday in the kitchen cooking. Well, I cooked. Ella licked. We were given all this glorious Be Natural cereal, which many of you know I'm already a fan of. Crunchy clusters… ahhhhh!
So, instead of telling you how far the drool is progressing down my chin as I eat another bowl, I thought we'd go all MasterChef on you instead and create something for snack time.
We wanted to create something like this: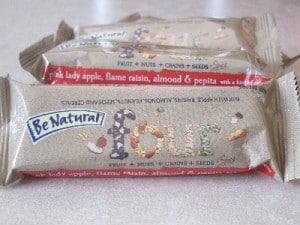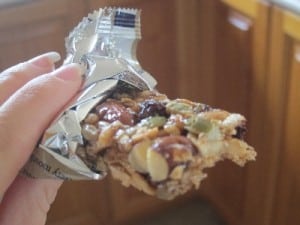 So here's our version of the Be Natural bars – the Homemade Breakfast Bars.
HOMEMADE BREAKFAST BARS
INGREDIENTS: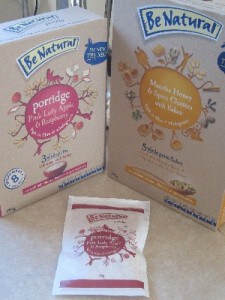 3 sachets (35g each) of Be Natural Pink Lady, Apple and Raspberry Porridge
4 ½ cups of Be Natural Manuka Honey and Spice Clusters with Flakes cereal
½ cup shredded coconut
125g butter
1/3 cup brown sugar
½ cup honey
METHOD:
Line a 26cm x 21cm baking tin with baking paper.
With a mortar and pestle, crush the cereal into smaller pieces. In a frypan, cook the porridge, cereal and coconut until light brown. It should take about 5-7 minutes on low to medium.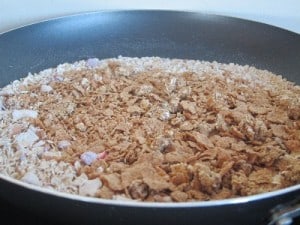 Meanwhile, melt the butter, brown sugar and honey in a pot until the sugar has dissolved. Let it simmer for about 5-7 minutes. When you drop a small bit of mixture into cold water, it should form a small ball. This is when you know it's ready.
Combined all ingredients in a bowl and then transfer into the baking tin. Be sure to push down the ingredients tightly into the tin. Let it cool.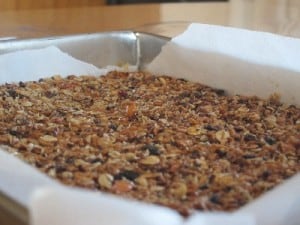 The girls were impatient to eat it, so we ended up putting it into the fridge for a little while. Then cut into squares.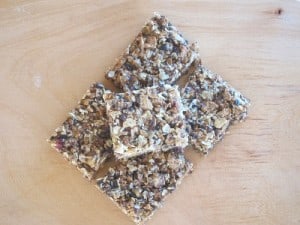 Plus, there's more… We've teamed up with Be Natural and Kellogg to give one lucky reader the chance to score a year's supply of Be Natural and Kellogg products. The prize includes:
– 4x Be Natural Pink Lady Apple and Raspberry Porridge,
– 4x Manuka Honey and Spice Clusters with Flakes
– 4x Be Natural Four Pink Lady Apple, Flame Raisin, Almond & Pepita with a hint of spice
– 4 x Be Natural Seasonal Blend Strawberry, Cranberry and Flame Raisin
– Special K Chocolatey Bar Caramel
– Special K Dessert Inspired Bar Berry Cheesecake
– Special K Dessert Inspired Bar Lemon Meringue
– All Bran Fibre Toppers
– LCMs
– Just Right
– Sultana Bran
– Sultana Bran Buds
– Crunchy Nut
– Mini Wheats 5 Grains
– Corn Flakes
– Rice Bubbles
Phew! Now we've made our way through that lot, here's how to enter. Simply tell us why you want to win a year's supply of cereal.
Terms and conditions: The Be Natural competition will be judged on creativity and originality. The competition opens Friday, June 1, 2012 at 7am AEST and closes on Friday, June 29, 2012 at 7.30pm AEST. One entry per person. Australian entries only. There is one prize winner, who will receive the product in one delivery. The winner will be notified via email and name published here. Entries remain the property of Three Li'l Princesses and may be republished.
If you would like to learn about more of our giveaways, make sure you sign up to our eNewsletters. You'll also find more giveaways in the Aussie Giveaway Linkup.
DISCLAIMER: I received Be Natural cereal and bars to try. I have not been paid to write this post. All opinions expressed are purely my own.