Visiting my nan on Sunday, I started asking her if she still had some of the old recipes she cooked us as kids. Nan was renowned for her biscuits and I thought some of them would make a perfect addition to Ella's school lunch box as a treat.
What I got was far beyond what I imagined. I came home with a shopping bag full of recipes to look through. Some were even from my great grandmother. Among them was this treasure:
Now Wondrous Ultra Special Sensational Mouthwatering Cookery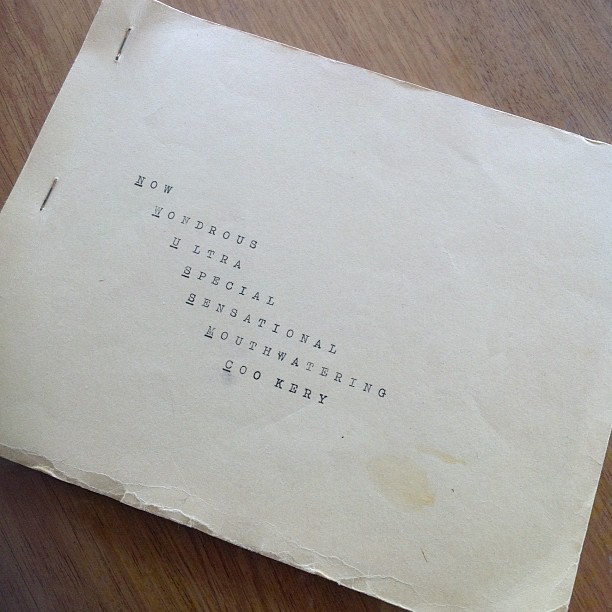 This is nan's mother's group recipe book. Nan is in her mid 80s. It's a yellow cardboard covered book with three simple staples in it. Nothing fancy. In the back it says "The North West Union of State School's Mothers' Clubs. Donation…. 30 cents''.
Throughout there are old fashioned recipes typed up neatly, like Chocolate Sponge Cake, Five Minute Cake and Steamed Pudding. There's also some obscure treats like Apricot Festival Cream, Weetbix Cake and my all-time favourites – Nameless 1 and Nameless 2. There's a note underneath saying "both are scrumptious – ask Mrs Dodd for the names". I'm wondering if anyone ever asked Mrs Dodd.
The book even has a couple of pages of "hints'', like:
To sharpen scissors, cut on the neck of a sauce bottle or similar as if you were cutting the neck off.
When requiring a small quantity of lemon juice, pierce with knitting needle and squeeze out the required amount.
Bunches of mint placed about the kitchen discourage flies.
And so many more.
Over the next couple of weeks I thought I'd share some of the recipes from the book and from her shopping bag full of treasures she's given me to look through. I might throw in a few of the handy hints too.
To end, here's the first page in the book. Timeless comedy.

Recipe for Happy Home
1lb of good temper
2lbs forbearance
1lb patience
1.5 lbs contentment
3 lbs unselfishness
1lb fun
2lbs cheerfulness
Method: Mix well with 2 quarts of milk of human kindness.
Dose: 1 wine glass full the first thing in the morning. To be repeated as the effect wears off.
To Preserve A Husband:
Be careful in your selection. Do not choose too young. When once selected give your entire thought to preparation for domestic use. Some insist on keeping them in pickle. Others are constantly keeping them in hot water. This makes them sour, hard and sometimes bitter. Even poor varieties may be made sweet, tender and good by garnishing them with patience, well sweetened with love and seasoned with kisses. Wrap them in a mantle of charity. Keep warm with a steady fire of domestic devotion and serve with peaches and cream. Thus prepared, they will keep for years.
We mums have come a long way in how we go about sharing recipes today!
Do you have anything from your grandparents you treasure? What about an old recipe that you still cook today?
Make sure you subscribe to the eNewsletter to see Nan's recipes.