AS MOST of you know by now, we spent three heavenly days at Strahan last month and had the chance to board Gordon River Cruises and ride the now famous West Coast Wilderness Railway on Tasmania's West Coast. This one is particularly special to me having been part of trying to get it up and running again (then known as the Abt Railway) through all the media coverage at the time. Well, that's what I tell myself, anyway.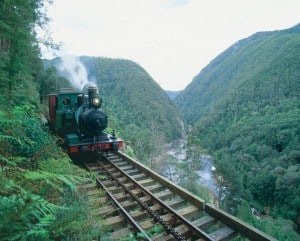 While on paper it didn't sound like the most riveting of experiences for a one year old and four year old, it couldn't have been further from the truth. In fact, I think it was a pleasant surprise for The Bloke in The Shed too.
The trip is steeped in history from its start at the fishing village of Strahan through to the finish in mining town Queenstown. Pay attention now, because here comes a brief synopsis. The railway, built in 1896, is regarded as one of the engineering marvels of Australia. At some points the railway is etched along the side of plunging gorges (photos down lower) and you get to see some of the many bridges they built while standing in freezing rivers. Of course, this one's now off limits.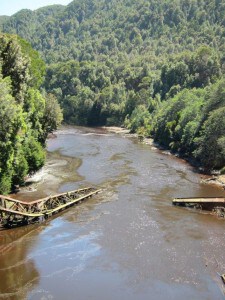 It gives you chills thinking about the fact pioneers achieved such a feat 100 years ago. You'll see what I mean soon. With some incredibly steep grades along the line (at its peak it hits 1:16), the railway works through a unique Abt rack and pinion system. Conventional locomotives couldn't cope. And you get to still experience that.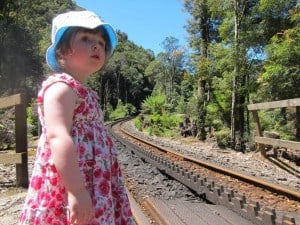 The beautifully recreated steam train and carriages with exquisite detail inside wind along the faithfully reconstructed line through some of the most rugged scenery in Tasmania.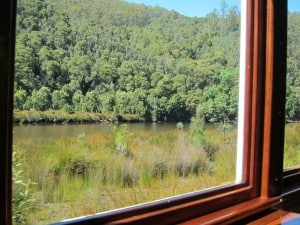 See what I mean? This is what you get to see a lot of. Picture perfect.
Although, if you're wondering about the colour of the water in the King River, that's pollution – yes, on the edge of a pristine World Heritage area. But you can learn about that on the trip.
Among the highlights (other than being able to get Holly to sleep in the pram they supplied for us), were: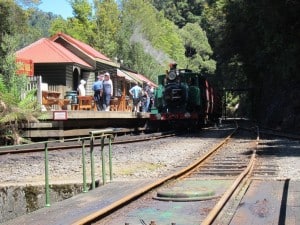 Getting to stop at Lower Landing, Dubbil Barril and Rinadeena, which were once home to small populations. Hard to believe.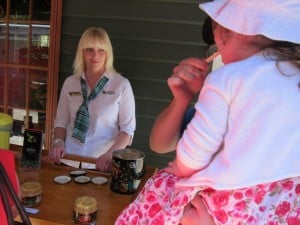 Falling in love with the Christmas hills honey at Lower Landing. That's Ella's second dip, by the way.
The chance to see the train in action at the turning stations.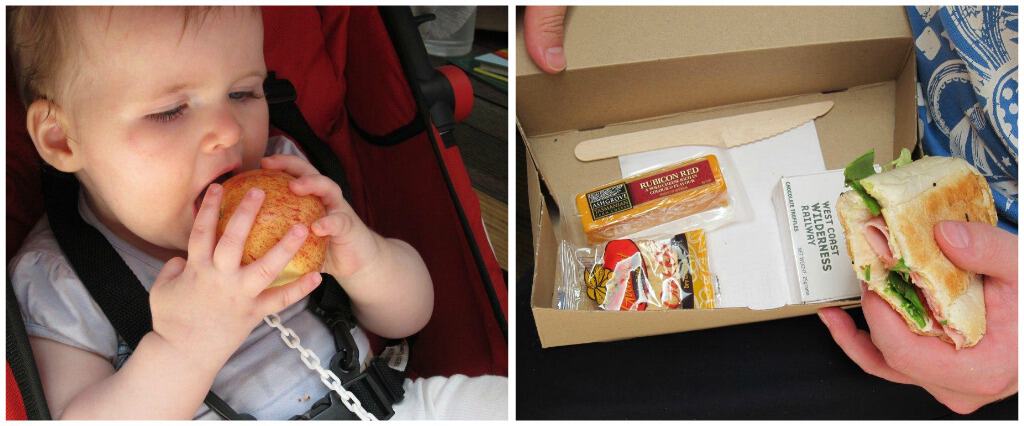 The Tasmanian produce on offer at lunch, which Li'l Holly thoroughly enjoyed.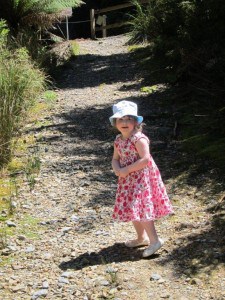 There's also a great little walk at Dubbil Barril, which would have been quite peaceful if not for a four year old singing Christmas carols at the top of her lungs. We'll thank Michael Buble for inspiring those ones on the two-hour trip down.
One of the real jaw dropping moments is when the wonderfully entertaining guide explains how the locals used to climb down that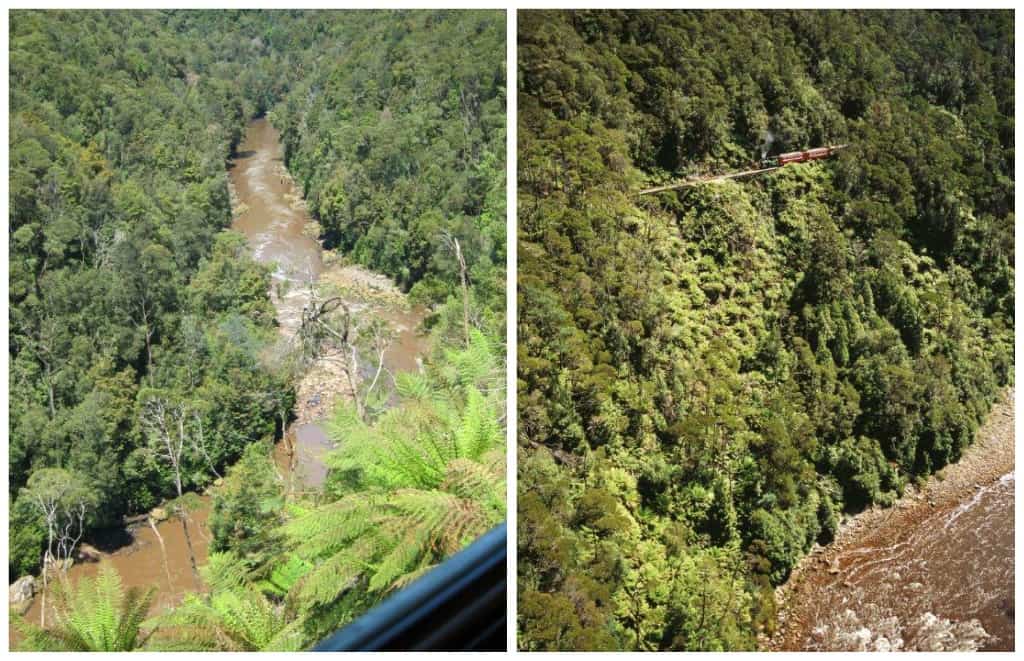 to pick up balls and toys swept down the river. Seriously, that is crazy.
As the journey came to an end, I was expecting we'd stop at Lynchford. I'd told Ella – and Twitter – all about how we were going to pan for gold and therefore make our fortune. Back when it first opened that was what I had the chance to do. And I scored gold. A tiny little speck on the end of my finger. Instead we stopped briefly and I got this photo.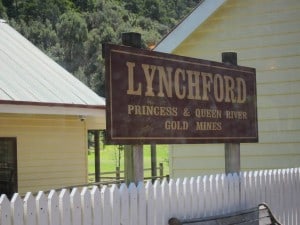 What a fitting end – Princess and Queen River Gold Mines. Now if that was created especially for us, I don't know what was. That beats gold any day.
Coming into Queenstown you get to see the now famous barren hills, a result of the sulphur from the smelting at the copper mine. For the non-Tasmanians, Queenstown's other famous landmark is its gravel oval – and yes, the fellas still play AFL footy on it.

It's easy to see why this is an Australian Tourism Award winner. It really does transport you back to a time when dishwashers were created by having lots of children. The trip is quite eerie in parts, but mostly you will be captivated by the beauty of this place. Families with older children would enjoy this even more than our two preschool-aged girls. There's seriously no where else like it. The trip is worth every penny.
A quick half hour stop and it was time to board the bus at Queenstown for the 50-minute drive back to Strahan. In a car it takes about 35 minutes – if I'm driving. It's a pretty windy road, so we were thankful both girls were so exhausted from their day they were out to it within a few minutes of the trip.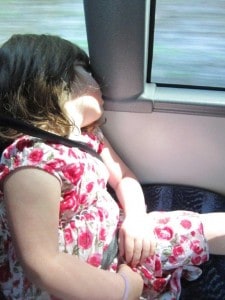 Travel dates: October 3 to April 28, 2012 timetable now available online.
Queenstown departure: 10am and arrives in Strahan at 2.30pm and a 4pm coach back to Queenstown by 5pm.
Strahan departure: 10.15am and arrives in Queenstown at 2.30pm and a 3pm bus back to Strahan by 4pm.
Duration: About 5 hours.
Travel options: Tourist carriage (includes lunch and return coach) or Premier Carriage (includes lunch, snacks and beverages – that means sparkling!).
Cost: Vary between $110 and $210 per person. Children 3-14 years are entitled to child fares. Children two years and under are free. Child fares are not available for the Premier Carriage, but children and infants may travel on an adult fare.
More information: Visit www.westcoastwildernessrailway.com.au

Have I enticed you enough to want to go?
Read more from the My Tasmanian Backyard series, along with our stay in Strahan Village.
DISCLAIMER: We received Tourist Carriage tickets to ride the West Coast Wilderness Railway, thanks to Pure Tasmania. All opinions expressed are purely my own.